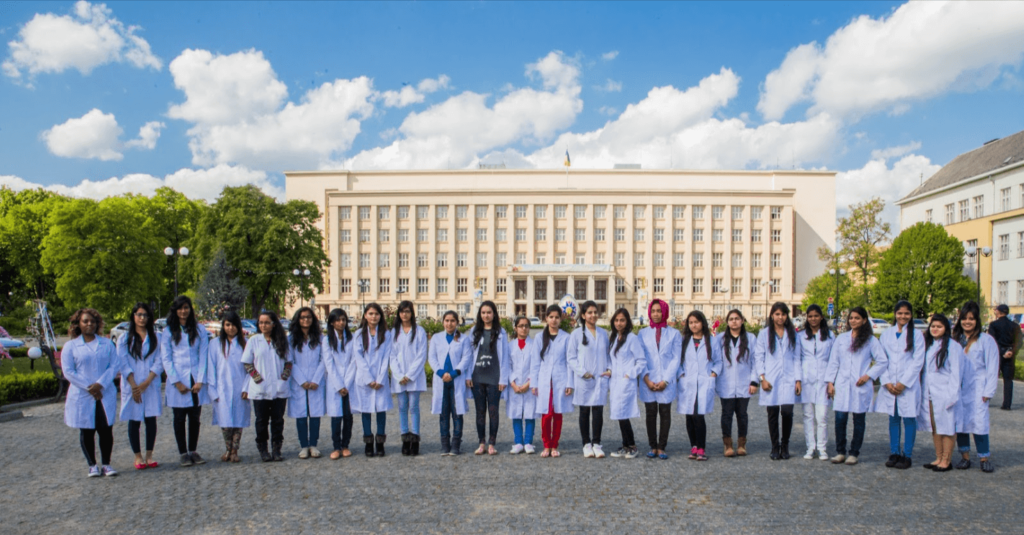 Ukraine, the second-largest country in Europe. It has top medical universities offering MBBS, MD and other medical degrees to local students and international students.
Nowadays many international students are planning to study MBBS in Ukraine, Russia, Bangladesh, Germany, Philippines or other foregin countries. The graduated students from these medical universities are eligible to apply for jobs and work in any part of the world. The students don't have to appear for any entrance examination to get admission to a medical university in Ukraine.
Ukraine has occupied 4th position in Europe for having the most number of post graduates in the medical field. They have made it very easy for the aspiring students to fulfil their dreams of becoming doctors. Ukraine is the most preferred destination for high-quality medical education at a reasonable price.
Among the top universities, Ivano-Frankivsk National Medical University is one of the leading universities in Ukraine for medical education. It has a history of over 60 years. The Government of Ukraine has awarded the title of "National Medical University" to this university. IFNMU was founded in the year of 1945. It is recognized by the Medical Council of India (MCI), World Health Organization (WHO) and is listed in the World Directory of Medical School.
This university allows the graduates to work successfully as dignified doctors, scientists, or heads of public health service in many other countries around the globe, and delivers the highest quality of medical education.
IFNMU comprises 48 departments, 12 hospitals and clinics. The Teaching staff has about 443 teachers, among them 77 PhDs, 264 candidates for PhD and 19 Academicians.
Programs Offered at Ivano-Frankivsk National Medical University
General medicine (Doctor of Medicine)
Dentistry
Pediatrics
Pharmacy (Bachelor of Pharmacy)
Specialists (MD/MDD)
Eligibility Criteria
Age: The candidate must have turned 17 by 31st December, in the respective year of admission.
12th Marks Sheet (General Category): The candidates must have secured a minimum aggregate of 50% in Physics, Chemistry, Biology. Also must have studied English as a mandatory subject.
12th Marks Sheet(ST/SC/OBC Category): The candidates must have secured a minimum aggregate of 40% in Physics, Chemistry, Biology. Also must have studied English as a mandatory subject. They are also required to submit a caste certificate from a competent authority as well.
The candidate must be NEET qualified.
Recognitions and Rankings
Being one of the most prominent medical universities in Ukraine, IFNMU has been well recognized across the globe.
It is recognized by:
World Health Organization(WHO),
Medical Council of India (MCI)
International Medical Education Directory (IMED)
Educational Commission for Foreign Medical Graduates (ECFMG)
Medical Council of Canada (MCC)
Benefits of Studying at Ivano-Frankivsk National Medical University
IFNMU is highly competent, with experienced lecturers guiding the students.
The admission/enrollment fees at this university are quite reasonable and affordable for Indian students.
They accept no donations or hidden costs during the admission process.
Admission tests, including GMAT and English Proficiency tests like IELTS/TOEFL, are not required to get admission to IFNMU.
The admission process is very simple.
The medium of instruction is English.
The Faculty to Student Ratio is about 1:14, so that students can get individual attention.
Cost of living is affordable and Ivano-Frankivsk city is safe for the students.
Professors and lecturers across the globe take guest lectures and share their knowledge and experience with the students.
Graduates from this university can appear for licensing exams in India, Canada, and USA. They can also apply for post-graduation in these countries.
As Ukraine is a part of the Bologna Process, they ensure to deliver a high quality of education.
IFNMU is one of the best medical universities in Ukraine providing high-quality education with world-class infrastructures in a wide range of medical fields.
Medical aspirants who are planning to pursue MBBS abroad can consult the leading overseas education consultants who can guide you from the best options available to pursue MBBS in Russia, Ukraine, the Philippines, Bangladesh, or any other foreign country depending on your interest and requirements. They provide in-depth details about the university, country, syllabus, fees structure, accommodations etc. Overseas education consultants will also help you with the admission and visa process. So don't worry and consult the best MBBS abroad consultants near you…!